This place stinks, say Duncan Village residents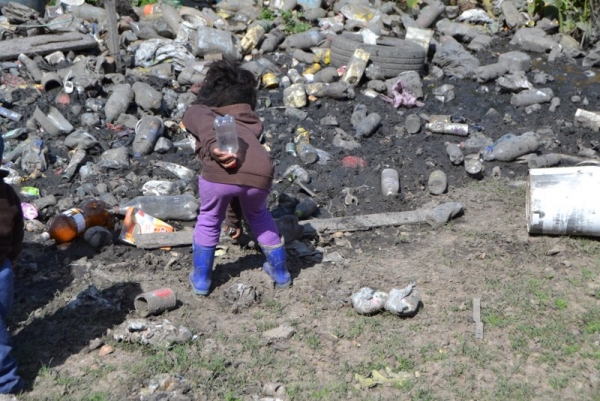 "Not only does this place stink, pigs eat here as well, making the place smell even more," says Sakhumzi Kholisile of Khayelitsha informal settlement in Duncan Village, East London.
Kholisile, 32, who lives with his wife and four children, is one of several residents complaining about the wet and filthy conditions in the area.
The settlement is wet and surrounded by dirty water from another area. When it's hot the stink comes inside the houses and when it rains residents have to try to keep the dirty water from coming inside. The area is also full of mosquitoes, and residents say sometimes they shut themselves inside their shacks to avoid the insects. They told GroundUp that they had been living under these conditions for the past nine years and for the past six years they had been waiting for houses promised by government.
When GroundUp visited the area it was hard to breathe because of the bad smell from the stream of dirty water running all the way to the shacks. Residents say the living conditions put their children's health at risk.
"I'm old enough to know not to go near the stream but kids always do what you tell them not to do, says Kholisile. "My children's health is at risk here because they play and eat next to this dump," said Kholisile. He says the family is waiting for a house in Chicken Farm, just outside Mdantsane, but does not know what is going on with the process. He and other residents say they were promised houses and were told that their houses were complete. But, he says,when he tried to find out what was happening, he was told that the houses in Chicken Farm had been given to some other people.
Another resident, Nonkwenkwe Marhatsha said the ten toilets in the settlement were blocked and people relieved themselves in the bushes. Marhatsha said the living conditions in Khayelitsha had forced him to take his children to live with his relatives in another area. "We get ill, especially the kids. Today it's flu, tomorrow it's something else. We don't even have enough money to take them to proper health facilities."
Ward 6 Councillor David Mbinqo said he was aware of the situation in Khayelitsha. He said most of the residents were beneficiaries of the houses to be built in Chicken Farm. But residents said this was an empty promise they were used to hearing before elections.
© 2016 GroundUp.

This article is licensed under a Creative Commons Attribution-NoDerivatives 4.0 International License.